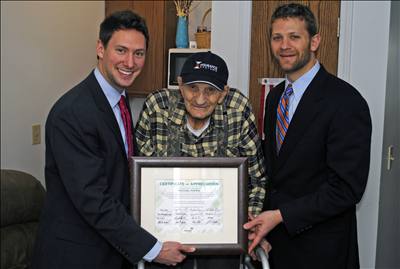 Grange Partner Insurance Systems Group, Inc. in Cleveland received a letter from 100-year old Michael Poprik in December explaining that due to his failing body he did not feel he could operate his vehicle in a safe manner anymore. He was turning over his keys. After 77 years with the agency and Grange Insurance, he cancelled his auto policy.

When Insurance Systems Group Agent Michael Herzak and his sons, Mike, Jr. and Dan, got word of the cancellation, they immediately contacted Grange with this incredible story. Recently, Mike, Jr. and Dan presented Mr. Poprik (pictured) with a framed Certificate of Appreciation signed by Grange's entire executive leadership team accompanied by a heartwarming letter from Tom Welch.

"This speaks volumes about our agency, our staff, our service and our relationships with carriers like Grange. Very few carriers would take the time to recognize such an achievement," said Dan Herzak. "This small act of our appreciation brought both smiles and tears to a man who felt very honored and simply grateful to be recognized. Although he said we made his day, he actually made ours."

In an age when loyalty is a dying trait and appreciation is rarely given, this story undoubtedly offers both. Thank you Mr. Poprik for what is most likely a record 77 years as a loyal Grange policyholder.