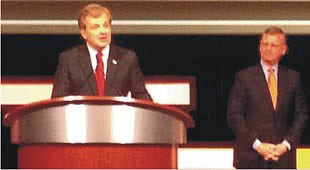 At the annual Corporate Caring Awards presented by Columbus Business First, Grange Insurance was recognized with the top award, "Benefactor of the Year." Each year, the local business weekly recognizes small, medium and large companies for their community support in areas such as Arts, Education, Health, Human Services and Environmental giving, plus the overall award.

When asked why the company gives, Community Relations AVP Patti Eshman said it comes naturally.

"Grange has a very caring corporate culture and we're headquartered in a city that is a very giving community," she said. "Years ago, when we sat down to define what our core values were at Grange, one of them – 'do the right thing' – plays a guiding role in everything we do. We didn't just write it down as something that we should follow; it was always there and we were just listing the things that made us who we are as an organization."

Grange contributes to all of its areas of operations through the United Way and many of its associates volunteer time to local organizations as Grange Ambassadors. And, of course, Grange has Community Rewards dollars available to match Inner Circle and Senior Partner and agents' donations to assist qualifying non-profit service organizations in their communities.

Photo: Grange CEO Tom Welch (right) stands by as Business First Publisher Don DePerro announces the "Benefactor of the Year" winner.